This might come as a surprise to most of you because honestly, when have you ever seen me on the big screen? The answer is never. Well, technically not yet. My first acting gig was way back in 2009 (I think) before I even became an official TV host but that unfortunately, didn't make it to the silver screens. And then, there was Apokalips X. If you're not a local (Malaysian) film enthusiast, you might not have heard of it and even if you have watched it, you might not have noticed me there. I literally had no lines! Blink and you might miss me punching and kicking away.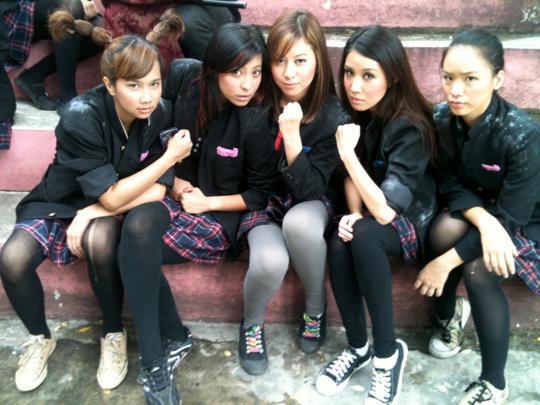 Although, my first proper acting gig was probably in a telemovie called Sakura where I played the lead role (believe it or not!). Deep down inside, I knew I was picked for the role because I spoke decent Malay and I could pass off as a half Japanese girl (right?). Whatever the reason may have been, I was grateful that the director, Datuk Rosnani Jamil entrusted me with the role and it was then that my love for acting began. It was a brand new challenge and way out of my comfort zone, which made it very exciting and stressful at the same time! I was at my lowest weight, weighing in at only 39 kgs. Yup, skin and bones! On top of that, I broke out like a motha! Was it worth it? A definite YES! As a TV host, I get to be myself (okay fine, myself on my best days) and as cliché as it sounds, it was fun playing someone else for a change.
Acting fascinated me. It didn't just take talent to be good at the craft but the ability to think, imagine, create, transform and be another person. I went on to act in another telemovie called Semangat Kuda but it was not until 2014 that my lucky stars landed me a supporting role in an upcoming feature film entitled Antara Satu (please make it to the big screens this time. Fingers and toes crossed!). This, to me was the real deal as I was acting alongside some of the biggest guns in the industry namely Remy Ishak and Bront Palarae. In Hollywood terms, they would be the Brad Pitt and Johnny Depp of Malaysia. Under the guidance and knowledge shared by the brilliant, talented actors including Ezzaty Abdullah and Aisya Hasnaa and director, Jason Chong, I fell even more in love with acting. It was one of the best acting experiences of my life albeit I didn't have many, but for the sheer fact that I learned a lot in brushing up my skill and understanding what it means to be a good actor.
That was the last time I acted. But hopefully, it wouldn't be the last of my acting career! In the meantime, til Antara Satu airs in cinemas near you (yes, I am being hopeful), you can check out a short film I had the pleasure of acting in, thanks to Jinnyboytv. This is Me, Myself and I.
X,
Megan.