1) Off Shoulder Tops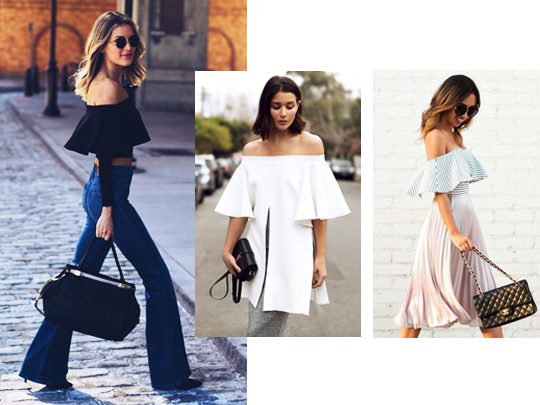 Why we love them:
They accentuate your shoulders and give you the right amount of sensual appeal and femininity. They're absolutely versatile as they pair well with just about anything from shorts, to skinnies, to boot cuts, to flare skirts, to pencil skirts and more! It's also the best way to conceal your underarms in a stylish way for those of you who may be a little conscious about it.
Where to get them:
Our top picks include Zara, H&M, ASOS and Bershka
2) Culottes
Why we love them:
On days when you don't feel like putting on a pair of jeans or long pants but a pair of shorts may be too casual, culottes are the perfect replacement. They're comfy and well suited for our hot and humid weather! With the right heels and right amount of flare and length (they should fall and end at the skinniest part of your legs minus the ankle), culottes hit all the right stylish notes when you pair them up the same way you would pair your flare midi skirt. They cater to a wide variety of styles from feminine to masculine; almost anyone can rock a pair of culottes.
Where to get them:
Our top picks include Zalora and ASOS
3) Salt-stone deodorants
Why we love them:
They contain mineral salts and other natural ingredients that work to eliminate bacteria which causes bad odor up to 24 hours. They leave no residue on the skin and is fragrance free. Totally easy to use; just damp with water and apply to desired areas of the skin. Do not mistake them as antiperspirants. Therefore, they do not prevent sweat for occurring.
Our top picks and where to get them:
1) Crystal Body Deodorant Stick, (125g)RM30.40 and (40g)RM16.15@Guardian outlets
2) Salt of the Earth Natural Crystal Deodorant Stone Classic 90g, RM56@Lazada
4) GoodSkin Labs EQUINOL Dark Spot Concentrate
Why we love it:
It helps prevent discolouration and rectifies uneven skin tone. It is hydroquinone-free; an ingredient linked to cause ochronosis. Instead, it contains a combination of botanical extracts that work as antioxidants and skin lighteners. It has a light texture and is suitable for all skin types.
How much is it:
RM155 for 20ml
Where to get it:
At any SaSa outlet