If you've been watching Go Travel on the Go Asean channel, then you would have probably caught the episode in Bali where all five hosts (myself included) were together for the very first time! It was also my first trip to Bali and my last trip for the show.
That trip was one of the best experiences I had hosting on the show. It felt like a real holiday! Not like the other trips elsewhere weren't fun but I have to admit, they were pretty hectic. We were always chasing for time, trying to squeeze in as much as we could in a day. I now have a newfound respect for travel hosts. It's not as easy as it looks! Even when you're down to your last ounce of energy, you gotta make the shots good! Don't get me wrong; if I had to do over, I'd do it in a heartbeat.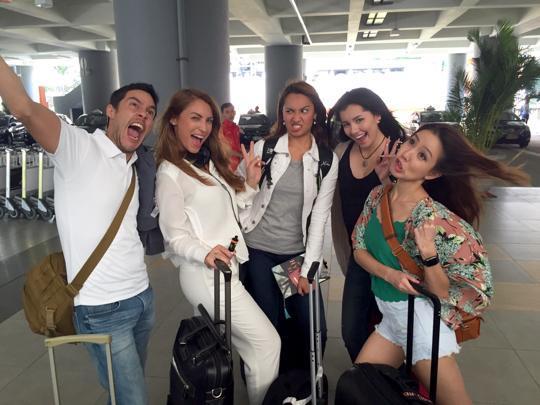 Now back to Bali. It made a huge difference having other hosts by your side as you enjoy all the fun-filled activities, savour all the glorious food, soak in the scenic views and experience the culture. Not just cause there was a sense of shared responsibilty, but it was genuinely a lot better getting to do everything in good company! On screen, it looked like we had a ton of fun together and we got along really well. Off screen was just the same!
Sorry, I don't mean to disappoint some of you who are looking for a juicy story. Truth is, I've been lucky enough to work with a bunch of awesome, down to earth, sincere people (both hosts and crew). Contrary to belief of my industry being really catty, I somehow managed to avoid being caught up in catfights. Phew!
Now really back to Bali! I love how Bali has affordable nice villas with a private pool and communal area where everyone can hang out together. The food is amazing; fresh seafood by the beach and Balinese food are so rich in flavors. Some can be pretty spicy too which I absolutely love. Of course, the scenic places and temples with beautiful architectures that you should visit. Very picture worthy or rather insta-worthy! Kechak dance is also something you must witness at least once because eventhough you may not understand the language, the performance itself is really captivating. As you may already know, surfing is a popular activity in Bali but there are others worth trying out too like ATVs and tubing down the rapids. (Search Go Asean on Youtube to catch our episode in Bali for more info.) Like most people, I love traveling and being able to travel as a job, that's a plus! I've learned a lot through my experiences with the show and the people I've worked with and I hope you had as much fun watching it as we did shooting it. Go Travel was my first travel show and hopefully, not the last.
X,
Megan.