Remember the days of strutting down the streets makeup-free, before the magnificent world of cosmetics came about? Good news, the look has made a comeback! Only with makeup this time around. Presenting to you, the no-makeup makeup look!
Simply put, the art of a no-makeup makeup look revolves around bamboozling others into thinking that your beautiful skin and refreshed face are God's gifts. It may appear as an oxymoron in the beauty world but hey, who's complaining? Sometimes we've got to take a break from the glam routines, and let our natural features shine through.
Here are 6 easy steps to pulling off the no-makeup makeup look with some essential products to aid you in the process!
1. Face
A fresh-faced glow is the key to mastering the no-makeup makeup look. You want your skin to look as naturally radiant as possible without any sign of cakiness. Swap out your full-coverage foundation for a light-weight base instead, such as a tinted moisturizer, BB Cream or CC Cream. If you haven't heard this a million times before, CC Cream, which stands for 'colour correcting', works wonders on the skin, giving it a healthy glow, moisture, radiance, and all that glorious stuff. As featherweight as it is, you can expect a sheer coverage on the skin, but don't go worrying about your freckles and blemishes peeking through. Sometimes, it's the tiny little imperfections that make us perfectly ourselves.
Recommended: Banila Co It Radiant CC Cream
2. Brows
Start by filling in the sparse areas of your brows by creating light feathery strokes with an eyebrow pencil or a brow powder (you can also opt for a matte eyeshadow!). Keep in mind that the brows are supposed to look as natural as possible; not overly defined nor extended, hence stray away from brow products in gel or crème form, as it's easy to get heavy-handed with these products. Using the spoolie end or your finger, blend it all out for even softer brows!
Recommended: ColourPop Eyebrow Pencil in Black N' Brown
3. Undereye
If there's one thing we've learnt in life – after 527340682 tubs of eye creams – it's that dark circles are impossible to be deep-sixed (and we totally blame those late Netflix nights). Thankfully, we have concealers to the rescue! Using your favourite liquid concealer, erase those dark circles away and ta-da! Nothing spells youth and fresh like some good brightened undereyes do. Don't forget to lightly set the concealer down with a setting powder to prevent creasing throughout the day – because shhh, we don't want our covers blown 😉
Recommended: Maybelline Fit Me Concealer // Laura Mercier Translucent Loose Setting Powder
4. Eyes
Since we are not supposed to go bananas on the eyes, adding just a tinge of brown eyeshadow will give your eyes a naturally beautiful depth. Feel free to pick a light brown matte shade from your favourite eyeshadow palette, or dip your brush into a matte bronzer. Then, lightly buff the colour into your crease and blend it to perfection! Finish it off with a thin coat of mascara to accentuate your natural lashes. We can't forget the curtains of our eyes, can we?
Recommended: Benefit Hoola Matte Bronzer // Tarte Lights, Camera, Lashes Mascara
5. Cheeks
Rosy glowing cheeks make all the difference in the world! For a natural look, pick a cream blush over a powder one. This is because compared to powder blushes, cream blushes blend into the skin more effortlessly while giving it a healthy rosy glow. With the beautiful flush of colour on the cheeks, we can now bid the pale complexion goodbye!
Recommended: Becca Beach Tint in Guava
 6. Lips
Do the dab! Nah, not the dance move, but the dab on your pout. Select a soft pink or peach lipstick and lightly dab it all over your lips. Then, blend it out using your finger using the dabbing motion once more, giving your pout a soft and subtle colour – almost like your natural lip shade, but better! Alternatively, you can opt for a lip stain for a more long-lasting, fade-proof effect.
Recommended: Clinique Chubby Stick in Curviest Caramel // Becca Beach Tint in Guava (can be worn as both blush and lip stain)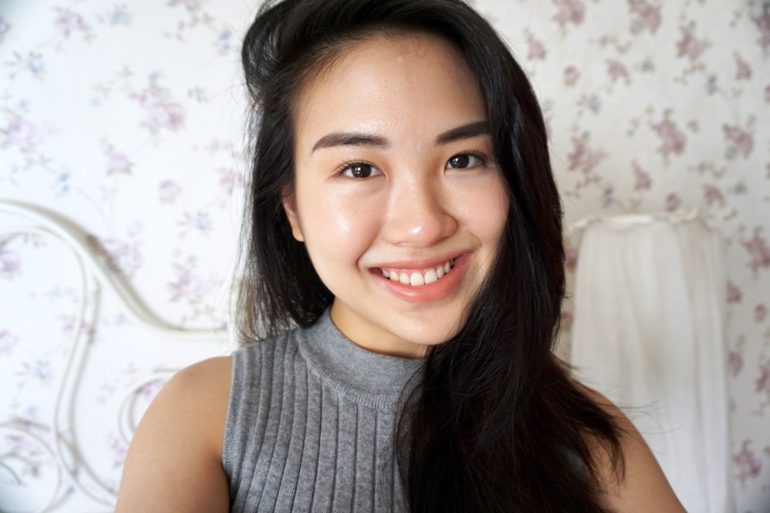 Bing, bang, boom! You're now ready to step out of the house with the modelesque, everyday no-makeup makeup look! *cue Queen Bey's "I woke up like this" anthem*