1. Percy & Reed Radiance Revealing Invisible Dry Shampoo.
Why we love it:
Our all time favourite dry shampoo! It absorbs the excess oil on your scalp instantly and leaves your hair looking healthy, giving it the just-washed look even if you haven't had the time to wash it. Thanks to this dry shampoo, we've gone 2 days without washing our hair 😉 How amazing is that! All you need to do is spray evenly on your hair, massage your scalp and comb your hair right after. Viola! Radiance Revealing (as it lives up to be).
How much is it:
RM74 for 150ml
Where to get it :
Sephora

2. RCMA Makeup No Color Powder
Setting your foundation and concealer down with a good powder could definitely make or break your makeup look – and that is exactly why you need the RCMA Makeup No Color Powder in your life. This finely-milled powder creates a silky smooth finish on your skin, while keeping your foundation and concealer secured all day long. Just as good as (if not better than) the famous Laura Mercier Translucent Powder (as featured in our guide to the no-makeup makeup look), you can snag the RCMA powder for only a fraction of the price with 3 times the amount of product! That's a steal!
How much is it:
USD $15 / approx. RM66
Where to get it:
http://www.beautybay.com/cosmetics/rcma/nocolourpowder/

3. Midi Rings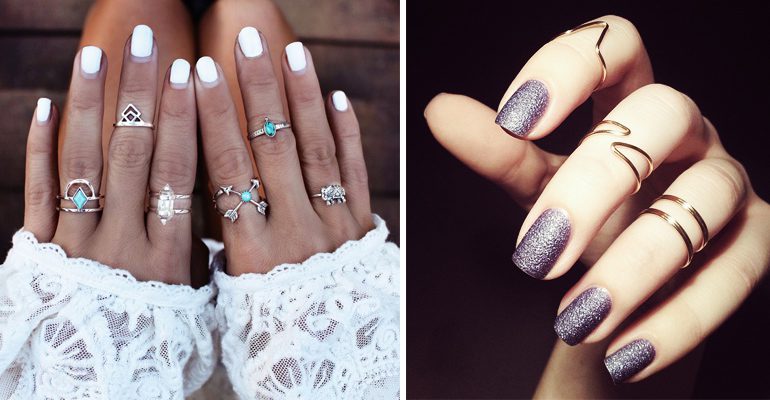 Why we love it:
Rihanna rocked this trend so well which makes it one of the many reasons why we are head over heels about them. They make your fingers look ultra edgy. Stack the rings right and you're in it to win it. The trick is to find delicate pieces and keep the stacks to a minimal. We do not want the rings to dominate and look super busy on your fingers. The wonderful thing is, you can mix and match your assortment to create a visually attractive pattern. Midi rings is an absolute conversation starter and will elevate almost any outfit and nail colour.
Our top picks include:
Zalora & Asos

4. The Band Tees
Why we love it:
Who would have thought that the rugged, old-school rock band tees would make a big-time comeback in the fashion world? Lace up, cut out, cropped, oversized – we have seen them all pulled off perfectly by our beloved supermodels (ahem Kendall Jenner, ahem GiGi Hadid) and it is about time now that we rock these looks ourselves! Pair it with ripped skinny jeans, or the classic denim shorts with a sleek longline blazer. As for the footwear choices? Booties, sneakers, high tops, and even heeled sandals – anything compliments the rocker chic look flawlessly!
Where to get it:
Missguided or DIY your own.