It's no big secret that us women love shoes and they are our ultimate sidekick. Shoes are not only made for walking, they're also made to stand out!
Let's see the staple shoes you must own to compliment almost any outfit.
Women and shoes : It's an unconditional love story.

Peep toe pumps – A peep toe is an absolute must have in your shoe closet. It's like a security blanket as they team up really well with just about any outfit ensemble. Dresses in any form, (a midi, a fit and flare, a shift dress, you name it ), jeans, jumpsuits and just about any piece of clothing available.

Wedge –  It is definitely a challenge to walk in heels and avoid being trapped in minor holes on the orad or when they  sink into the ground. Stability is what a pair of wedges can give you. With the height and balance, you can easily strut it with your summer dresses, jeans and shorts.

Ankle Strap – Never hold back with the ankle strap. It is made to lengthen your legs and it sure looks like you are wearing a fashionable anklet as you are being strapped around the ankle. The versatility of an ankle strap brings out character in your jeans, your skirts, dresses and lift just about any chic outfits.
Statement Heels – Any woman needs a pair of statement heels for that touch of glitz and glam.Statement heels will bring out a low key outfit by a few notches. A stand out shoe definitely qualifies for that additional excitement. You can put on a simple little black dress, and your monochrome ensemble. Trust your  statement shoes to elevate the rest of your look.

Flats – Everyone has to own flats, it's mandatory. Be it a ballerina or flat sandals. Days when you wear skirts above the knees and shorts, flats give that appropriate leg exposure without you looking sloppy or rather trashy.  It's important to look classy.

Casual sneakers – One can never go wrong with a pair of casual sneakers. It's perfect for the weekend and it goes perfectly well with denim shorts, denim in general and even dresses (for that casual comfy look)It's certainly a comfort meets style ordeal.

Ankle Boots – It's an all weather type of shoes. During summer or rather hotter days, you can play up your ankle boots with denim shorts and summer dresses. During cold weather days,you can put on a skater skirt, leggings or tights for that chic and easy look. Ankle boots are versatile as you can switch it up and make them into thigh high boots too by adding the touch of tights or knee high socks.
Here's something a little extra for you ladies, a little dictionary of shoes so you are knuckled down with your type of shoes and say it with pride.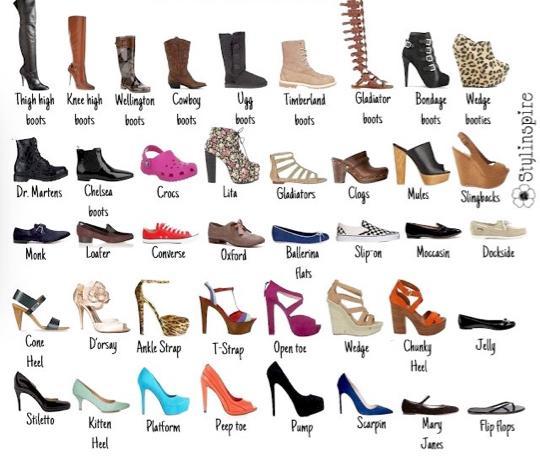 Shoes are the defining piece that creates style. In this urban chic society, we have to make these shoes work for us and work them well.
Image Sources: Google, Fashion Tag, Harpers Bazaar, Style Blue Print, Jon Teo