Sisterhood to me means having a friend who will always be there for life, through the end of time.
Being under the same roof or rather the same room most of our lives, you connect in quite that special way nobody else can. That's my sister to me, that special blend of everything amazing.
Many of my favourite memories are from growing up with her and this has ought to be my recent favourite, our ground breaking holiday to Brisbane and Gold Coast!
The trip finally got materialized from a casual chat about Justin Timberlake (my sister's favourite artist of all time, she would marry him if she could). She mentioned briefly if he ever hit any Asia Pacific shore, we will be on our first flight out. BOOM! Justin Timberlake announced his surprise tour to Brisbane! Lucky us! Got our things packed and jumped on a plane onto our trip of a lifetime!
We touched down in Gold coast, put up with a lovely relative. I must brag about that lake view as their backyard and did I mention there were ducks and swans too? YUP!

The Gold Coast Adventure
Movie world madness! We were living it up, conquering our biggest fear of coasters (okay,just my biggest fear) my sister, she is the dare devil.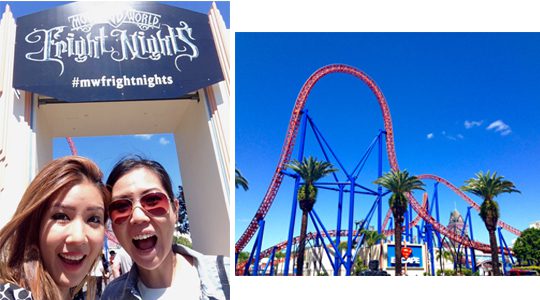 Burleigh Heads, Mermaid Beach
A close friend took us for a drive and voila, found ourselves basking in the paradise of Burleigh Heads. The serenity of its landscape calms your mind and the fresh breeze takes you away from the hustle bustle of city chaos. Yay beach life!
Here comes the exclusive highlight of the trip. MR all kinds of right, JUSTIN TIMBERLAKE!
We were pumping with adrenaline and sweating with excitement as he took the stage and swoon us with 29 tracks, YES 29! Such a phenomenal setlist. That night was defined as the best Friday night in our lives, hands down!

We were awaken to the best morning after experience ever (the 20/20 kind, get it,get it).
Flashbacks and playbacks, reeling over the beyond mind blowing concert of Justin Timberlake. First order of the morning, grab some coffee and breakfast and wander around Carseldine Market. This market is absolutely worthy of waking up for. It caters to everyone. Tons of fun things to do. Shopping,eating and live music greets.

Lone Pine Koala Sanctuary
Off we go to experience the beautiful sightings of Aussie wildlife in the best natural settings. We had the privilege of cuddling a koala each. First timers all snuggled up with the koalas.


New Farm Park
Evening whine down at the New Farm Park. The glorious weather permits such a wonderful time for a picnic. Such a great time gathering with new found friends.
On the very last day in Brisbane,we decided to take a stroll in the city. We are both city people,the city always registered as a great recharge and it makes us feel alive.
This marks the most fun-filled and most eventful trip Gold Coast and Brisbane have presented to us. The best thing about having a sister is I always have a friend and a travelling companion who agrees on all travelling grounds.
Awwww I am feeling sentimental from looking at all these photos.