When you think of Norway and Finland, what comes to your mind? If you say fresh snow, frozen lakes, reindeer and the Northern Lights, you're definitely on point! Experiencing this winter wonderland has long been on my list of 'Must Dos' so I recently made a family trip to Tromso and Kirkenes in Norway and Kakslauttanen in Finland. Here are some of my favourite moments visiting these amazing places.
1. Dog sledding with Alaskan Huskies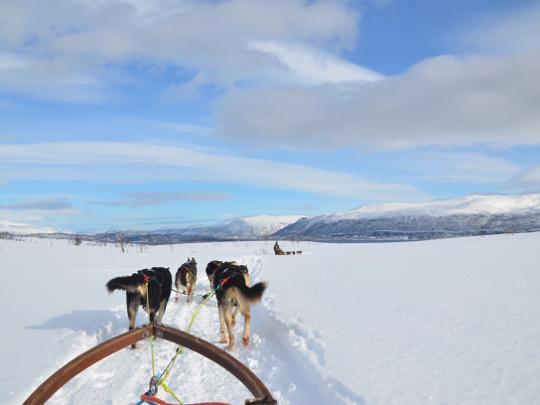 I absolutely adore dogs (I had 3 when I was younger) so this was an activity that I was really looking forward to… and it did not disappoint! The company we did this with was Tromso Villmarkssenter which has over 300 Alaskan Huskies (holy moly that's a lot of dogs). When we arrived at the farm, we got geared up in a snow suit and boots, received a short tutorial on how to drive the dog sled, and off we went! Matt and I took turns driving the sled across the snowy landscape and it truly was a magical experience. To my surprise, I found dog sledding to be pretty easy – the dogs loved to run and we quickly learned to shift our weight when manoeuvring corners. At the end, we even got to play with some of the Huskies and cuddle the adorable puppies. Dog lovers, beware, it's really hard to leave this place!

2. Chasing the Northern Lights
We tried to keep our expectations low as we've heard of people not being able to see the Northern Lights. As disappointing as it would be, the Lights are a natural phenomenon and can't be predicted or planned. But thankfully, we were lucky enough to see them three times during our trip! We chased the Lights with 2 separate companies – Arctic Explorers Tromso and Karl-Ivar's Guided Tours. Larger companies like Artic Explorers provide warm expedition suits, shoes, tripods and a hot meal whereas smaller tours are more no-frills. Either way, the entire experience of driving out to the guide's favourite spot, setting up 'camp' and waiting for the Lights to appear is incredibly memorable and a once-in-a-lifetime experience. And sometimes, if you're lucky, the Lights come to you. We were so excited when the Northern Lights appeared right outside our hotel in Kirkenes. What a great way to end the night, watching the Lights dance across the sky.
3. Staying in a glass igloo
You'll recognise Kakslauttanen Artic Resort as one of the top destinations in the world to visit and it's TRUE! We stayed in a Kelo-Glass igloo which was a log cabin with an attached glass igloo. While pricey, I can honestly say it was an unforgettable experience and a dream destination to visit. Imagine returning after an exhilarating day of snowmobiling back to the welcoming warmth of a roaring log fire and gazing up at the stars from the comfort of your bed in your own little glass igloo. Now that's something you don't do every day.
4. Playing in the snow
I'm much more of a sun-and-beach kinda girl, but playing in snow was so much fun! I almost couldn't believe my eyes when I saw how deep the snow was. It covered the ground, buildings and trees, turning everything into a real winter wonderland. There's something about the fresh crisp air, the birds trilling and all that lovely white snow that brings out a child-like joy and desire to be a little silly…. which is exactly what we did when we found some tobogganing sleds. Even my parents joined in which was really surprising!
5. Enjoying the scenery and frozen fjords
From dog sledding to king crab fishing to snowmobiling, I saw how amazing and incredibly beautiful Mother Nature could be. These places are a nature lover's dream and I came away with hundreds of scenery shots, trying to capture the fleeting memory of what I was seeing before me. I'll always remember racing across the frozen fjords, the cold wind rushing at my face and looking up to see puffy clouds rolling across a gorgeous blue sky. Norway and Finland, you've been good to me 🙂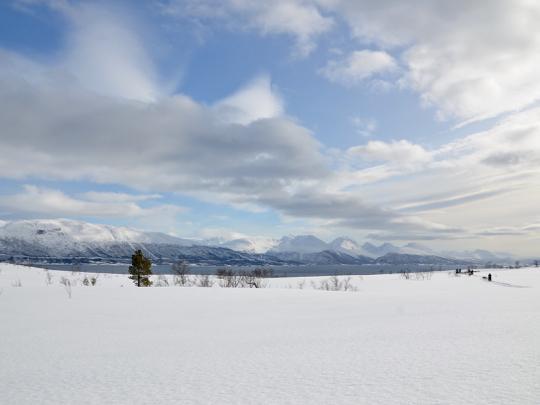 If you've visited Norway or Finland, share your experiences with us! And if you want more information about the places I went to, drop me a comment below.