Don't we all just desire that porcelain, poreless, flawless skin we see on Instagram and Snapchat (HELLO FILTERS!) on a daily basis? As much as we hanker after that, let's hold our horses for a sec and not get sucked into the whole curated façade of social media perfection. Having said that, it doesn't mean that glowing, clear skin is unattainable. If there's a will, there's always a way!
Many of us might already know the basic rules to achieving beautiful skin, but often times we are just too lazy busy for it. Well hopefully, the following tips will serve as a good guide to achieving the good skin we desire without having to do too much:
1. The Girl with the Right Skin Care
What is your skin type? Is your skin normal, dry, oily, sensitive, acne-prone, or combination? Most of the time, it can be tricky to determine the type of your skin. You might think you have oily skin due to the greasiness you feel on your skin, but in actual fact, your skin could be severely dehydrated. This is because the skin is working extra hard to produce oil to compensate for its lack of water content. Thus if you're feeling iffy, it's best to find out what your skin type is professionally from a dermatologist. It's always easier when you know what you're working with, right?
As a girl with dry skin, I can't stress enough just how important it is to use the right skin care. There was a time when I was just being a sloth and couldn't care less about using any skincare for months. The aftermath? My skin went completely downhill with bumps and textures surfacing on my dull skin. Lesson learnt: never ever forget your skin care, girls!
2. The Girl with the Healthy Diet
Our body is filled with toxins, thanks to the junk we consume on a regular basis. To eliminate those heinous toxins and waste, our skin naturally unleashes them through the surface, resulting in problematic skin conditions such as rashes and acne. As time goes by, the toxicity accumulated will then lead to fine lines, wrinkles, pigments, dull complexion, and all things unattractive (you get the drill).
"You are what you eat" is a phrase we hear most commonly, and this can't be truer. When I was introduced to clean eating, I stayed away from refined sugar, processed food & bad carbs, and included a generous amount of leafy greens, proteins, healthy fat & fruits in my meals. Over time, I noticed a huge improvement in my skin complexion and texture! Another great tip for pretty skin is to sip on mixed fruit smoothies jam-packed with loads of vitamins and antioxidants!
3. The Girl with the Brush
If all else fails, we have makeup to the rescue! To achieve glowing, youthful-looking skin, the skin has to appear as if it has drunk up 200 gallons of water. Two vital weapons to this: Foundation and highlighter!
Look out for foundations which give a dewy and glowing finish. For starters, you may want to check out foundations such as Bourjois Healthy Mix Foundation, Makeup Forever HD Foundation, Stila Aqua Glow Serum Foundation, and even popular K-beauty brands with the likes of Innisfree and Banila Co. as they are big on achieving glowing radiant skin.
Next up, after you have your beautiful luminous base on, it's time to get your highlight on fleek! Illuminating your face with highlighter on the high points of your face will give your skin that extra oomph of goddesslike glow. Quick tip, always remember to shy away from highlighters with chunky glitters; you don't want to look like a disco ball!
4. The Girl with the Cleansed Face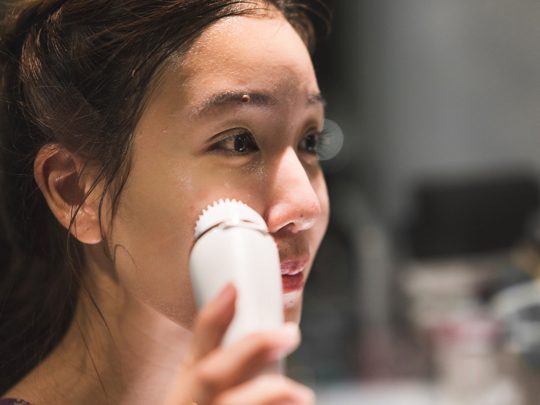 Never get too lazy to take off all of your makeup. Keeping makeup on will only clog your pores, and even stretches them out over the long haul. With that said, double cleansing is your pal. Always remember to strip your makeup off with your favourite makeup remover (ideally in oil form for its moisturizing benefits), followed by a face wash. Subsequently, use a cotton pad soaked with toner to wipe off any makeup residue and impurities that still linger on your skin. Nothing feels more amazing than a freshly cleansed face.
5. The Girl with the Beautiful Smile
This is probably the cheesiest, most cliché tip you will ever come across. Yet think about it, have you noticed when someone's beamingly happy, their skin glows naturally from deep within? Just take a look at the brides and expecting mothers. Where did you think their glow comes from?
That's right, work on your inner self, eliminate all unnecessary gloom, and always think of beautiful thoughts! Ultimately, it's what's on the inside that makes us girls truly beautiful.
Giveaway!
Our good friends at L'Occitane wanna give you a head start to achieve the good skin you desire by giving ONE lucky winner their latest range of Pivoine Sublime skincare worth RM602! All you have to do is share with us how you take care of your skin and why good skin is important to you in the comment section below. Best answer will be contacted via email. Also, don't forget to follow us on instagram @megsmesh
*Contest ends on the 8th September 2016 and only valid for those living in Malaysia*
photos by Jon Teo